Abubeka achieves the 250% win bonus to pocket UGX 9,266,980.62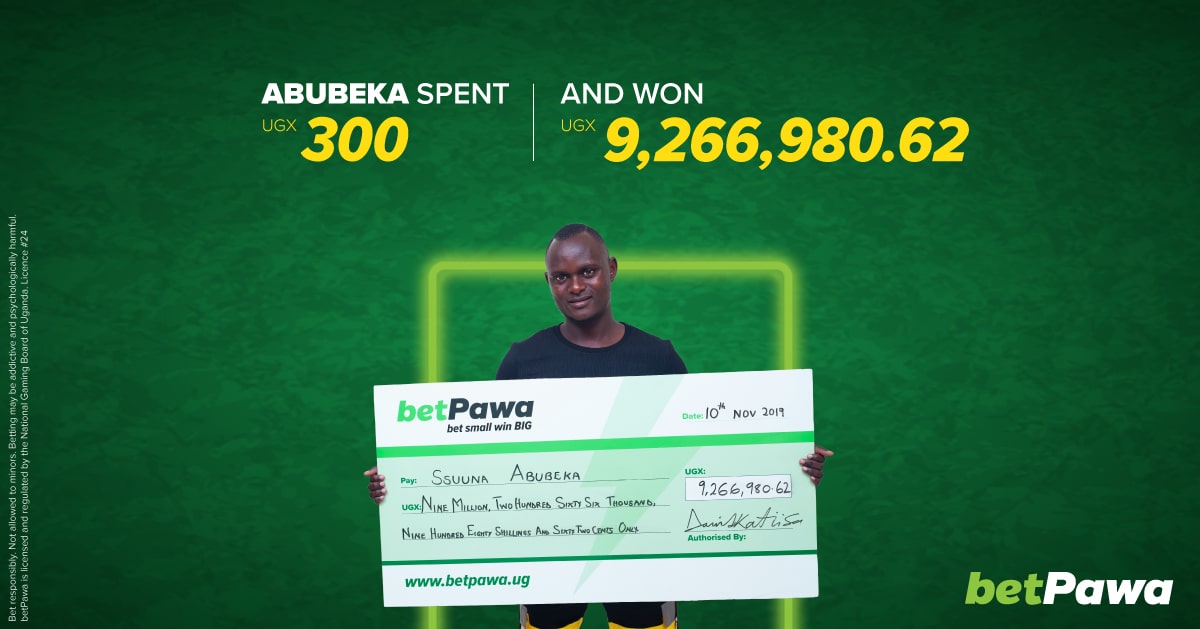 Every single one of the 30 favourites that Abubeka Ssuuna picked were victorious, winning him UGX 9,266,980.62 from a UGX 300 bet.
betPawa add a 250% win bonus to all bets with 30 legs, so his initial UGX 2,647,623.00 winnings were more than trebled. We also offer the best win bonus in Uganda for all bets with three legs or more.
The Kapeeka resident said: "I was so happy that I couldn't believe it at first. I showed it to my close friend and he confirmed it was real, then I went ahead and requested for a withdrawal which I received within 15 minutes.
"I didn't follow anything but just checked abruptly on the Sunday and I was excited to see my account topped up with over UGX 9 million. I'm planning to buy a plot of land and add more money to my music career as well.
"It's my usual approach because I normally pick games from different leagues but only those with small odds which don't go beyond 1.70." On this occasion, the singer didn't include any team with odds bigger than 1.60.
Abubeka finished by saying what he enjoys most about betting with betPawa: "The minimum stake of UGX 1, because you can bet small and get a chance of winning BIG. The website is easy to learn, convenient and has a wide range of football leagues."
Want to win BIG like Abubeka? Register with betPawa.
What is betPawa's no minimum stake? betPawa offers its customers the genuine chance to bet small win BIG by allowing users to bet as little as UGX 1.
What is betPawa's win bonus? betPawa offers the best win bonus in Uganda, inviting users to win up to 250% extra. With 50% for 12 correct picks, 100% for 20 and 250% for 30, you get much more in return.
betPawa is the easiest way to bet online securely. Not only do we offer the best odds and the opportunity to bet small win BIG with a minimum bet of UGX 1 and win bonuses up to 250%, we also provide 24-hour support to customers who need it.
Are you the next winner? Visit: www.betpawa.ug