Anthony Kasadha wins UGX 101,530,432.62 from a pair of UGX 187 bets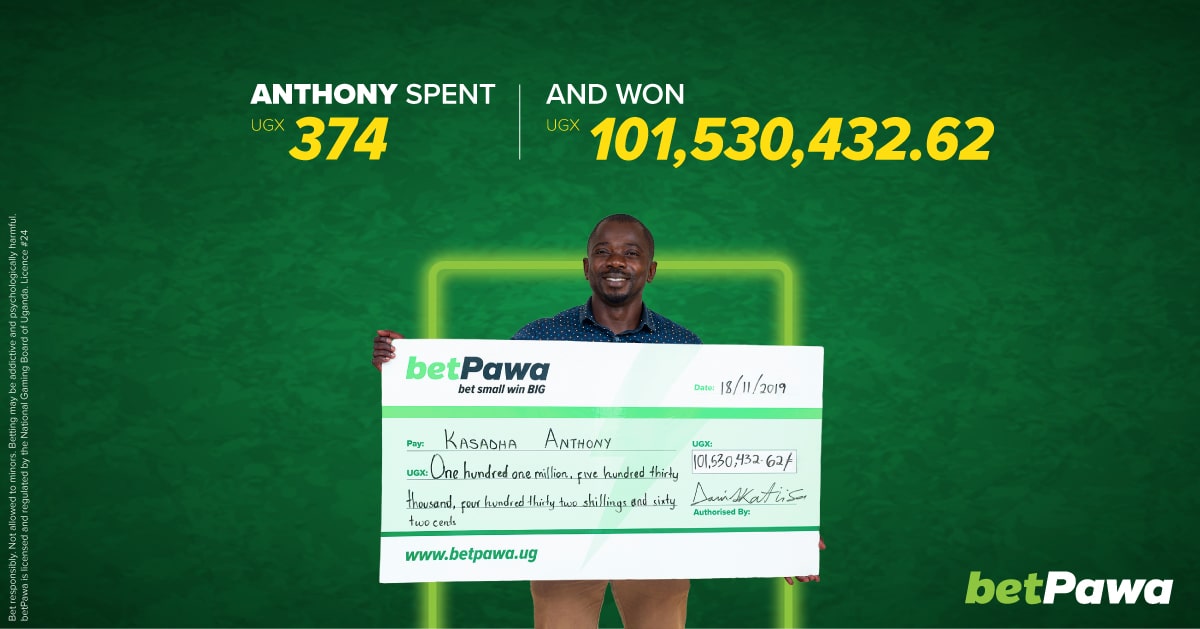 It only took a combined UGX 374 stake – spread across two UGX 187 bets – and 12 selections for Anthony Kasadha to win UGX 101,530,432.62.
The IT technician's picks had odds ranging from 1.87 to 3.75 and his UGX 67,686,705.88 combined winnings were increased by a 50% win bonus for betting on 12 legs. betPawa offer the best win bonus in Uganda for all bets with three legs or more, including 250% for 30 legs.
"When someone from betPawa called me to say I had won, I didn't believe it at first," the Iganga native revealed. "I checked on my betPawa account as I was talking to him. I was shocked by what my eyes were seeing because the figures were really crazy.
"I shouted and screamed and everyone looked at me. I was so happy and excited. I first told my best friend. I intend to improve my welfare, build a house, add more money to my IT business and very soon I will be flying to Dubai to purchase new computers and other IT equipment.
"Being busy all the time, I couldn't stand going the outlets to line up and place my bets from there. I preferred using betPawa because it was so easy for me to understand.
"I started betting with them in 2017. Along the way, I won UGX 14 million with them, which they paid me all in full amounts. And it really added value to my life and wellbeing."
Want to win BIG like Anthony? Register with betPawa.
What is betPawa's no minimum stake? betPawa offers its customers the genuine chance to bet small win BIG by allowing users to bet as little as UGX 1.
What is betPawa's win bonus? betPawa offers the best win bonus in Uganda, inviting users to win up to 250% extra. With 50% for 12 correct picks, 100% for 20 and 250% for 30, you get much more in return.
betPawa is the easiest way to bet online securely. Not only do we offer the best odds and the opportunity to bet small win BIG with a minimum bet of UGX 1 and win bonuses up to 250%, we also provide 24-hour support to customers who need it.
Are you the next winner? Visit: www.betpawa.ug