betPawa 250% win bonus helps John Patrick win UGX 14,494,090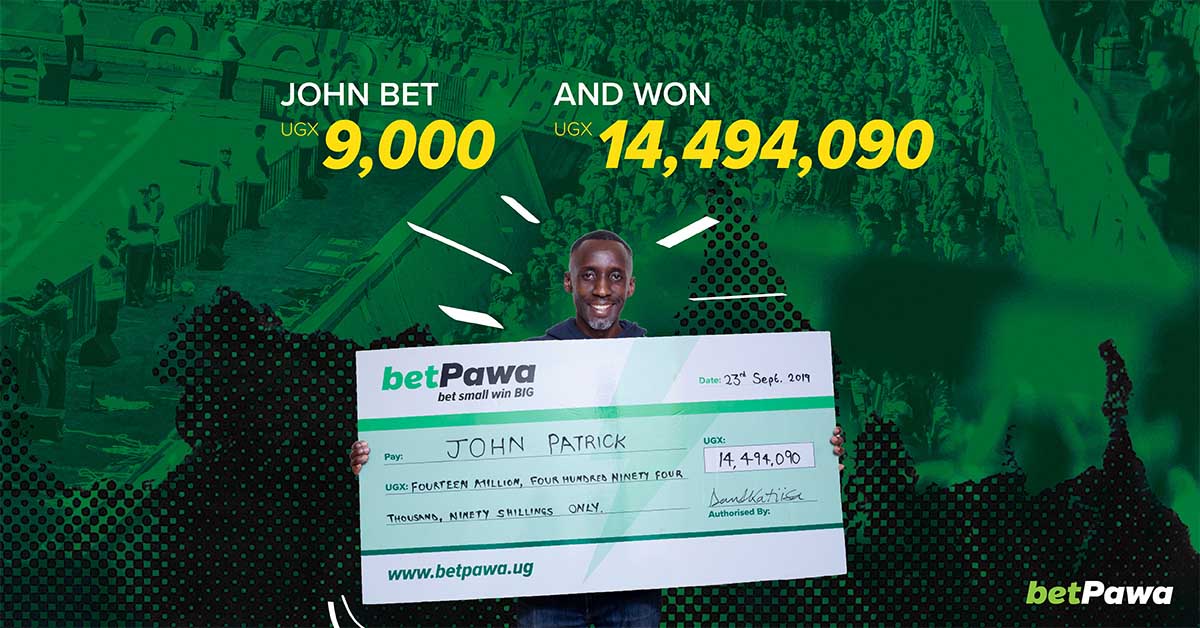 John Patrick scooped a life-changing UGX 14,494,090 from a stake of UGX 9,000, with a bit of help from Uganda's best win bonus.
betPawa offer Uganda's best win bonuses on all winning bets of three legs or more, from 3% for three legs, to 100% for 20 legs, right up to a maximum bonus of 250% for a 30-leg-multi.
Mr Patrick, who works in the transport business in Mbarara, put together a successful 30-leg multi bet, with his initial winnings of UGX 4,138,596 boosted by an additional UGX 10,346,492 courtesy of the win bonus he earned for taking on so many selections.
John's betPawa story
"I got to know betPawa through advertisements I heard on radio and television stations.
"I have been betting with betPawa since 2017, up to today when I won the biggest amount of money in my life, UGX 14,494,090 through a stake of UGX 9000.
"I like betPawa because of their wide range of market options accordingly, with Pawaboost odds, minimum stake of UGX 1 plus the win-bonus which goes up to 250%.
"I received all my winnings and I had a plan of buying a plot of land, which I did."
How to pick a winning multi, according to John
When asked for the methods which led to his bet small win BIG moment, Mr Patrick spoke of the importance of "doing comparison, as well as analysing on the games I am going to bet on."
"I analyse my games through checking the two previous team performances, I pick them through different leagues. Mostly I play a market selection of total goals over/under full time."
John's message to Mbarara and the country at large
"I call upon people from Mbarara where I come from and the country at large to use betPawa because it's a genuine company, due to the fact that they are registered with Lotteries and Gaming Regulatory Board of Uganda.
"Please bet small and win big. Betting has no problem so long as you are above 25 years and please bet responsibly."
Want to win BIG like John? Register with betPawa.
What is betPawa's no minimum stake? betPawa offers customers the chance to bet small win BIG by allowing bets from as little as 1 UGX.
What is betPawa's win bonus? betPawa offers the best win bonus in Uganda, inviting users to win up to 250% extra. With 50% for 12 correct picks, 100% for 20 and 250% for 30, you get much more in return.
betPawa is the easiest way to bet online securely. Not only do we offer the best odds and the opportunity to bet small win BIG with a minimum bet of 1 UGX and win bonuses up to 250%, we also provide 24-hour support to customers who need it.
Are you the next winner? Visit: www.betpawa.ug