Lukudu Denis wins 200,000,000 UGX Jackpot with 100 UGX ticket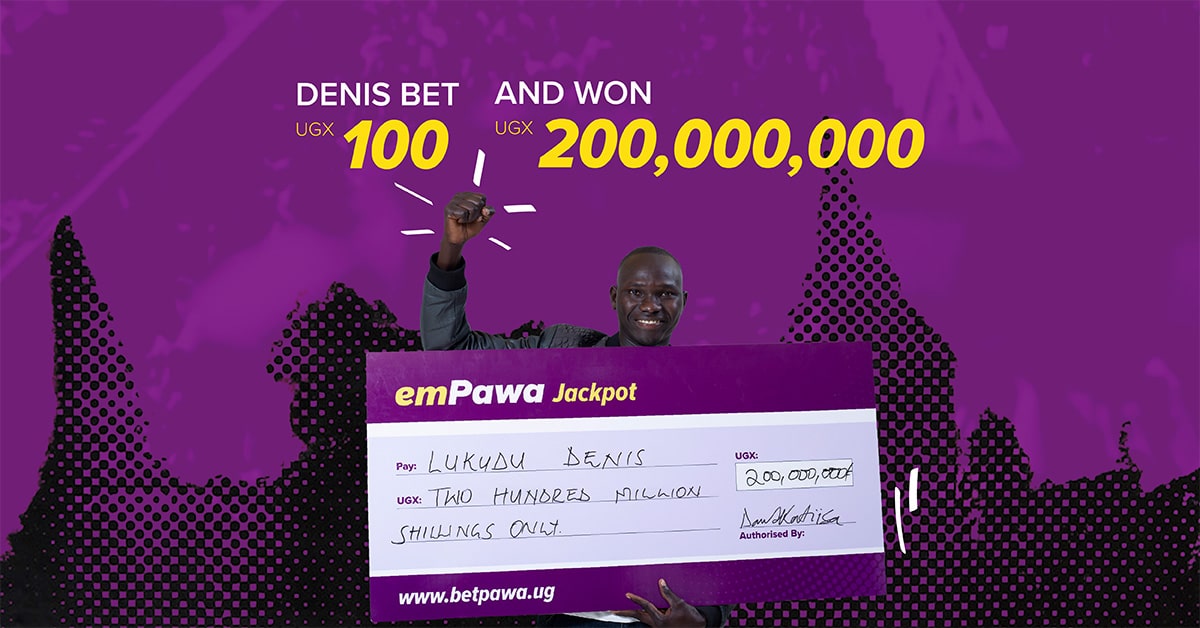 Lukudu Denis became betPawa's BIGGEST Ugandan winner so far by taking emPawa17's 200,000,000 UGX top prize.
The 26-year-old Moyo District resident only needed one 100 UGX ticket to win the enormous amount. He predicted all 17 results in our 08/09 Jackpot game correctly.
He said: "I am the first winner of the emPawa17 Jackpot of 200,000,000 UGX. I can't imagine that me, a mere peasant farmer, could get such a lifetime opportunity considering my occupation.
"My happiness was beyond my expression. I felt so happy that even I couldn't believe it. I only told my brother first because he was the one who helped me join betPawa.
"Later on, I couldn't hold any more. I shouted while running and screaming that betPawa has done it to me and many people were asking me what betPawa is all about.
"And I'm still in the celebration mood. When I go back home, I am planning to throw a BIG party and celebrate with friends and family before I can do my investments."
Lukudu's plans after winning BIG
Lukudu said that there was no secret to his success, but explained: "I do analyse the games by checking on the past five records on the game".
What will he do with his 200,000,000 UGX? "I have been having a sight problem for over 10 years. Now I am going for proper treatment and surgery for my eyes and doing an investment in a business wholesale shop in my district town, plus large scale modern agriculture."
Why Lukudu bets with betPawa
The BIG winner added: "At first, I was betting through a shop where I used to write on the paper then they place for me a bet and get a printed receipt but recently I got to know betPawa through my brother. He said that betPawa was cheap and convenient.
"I've been betting with betPawa for almost three months.
"I like betPawa because of being online, minimum stake of one shilling, convenience and the Jackpot is good because you just have to select either home team win, draw or away team, not correct scores like other companies do and it's only 100 shillings to buy a ticket."
Want to win BIG like Lukudu? Register with betPawa.
What are betPawa's Jackpot games? betPawa runs emPawa17 every weekend in Uganda, where customers can win up to 200,000,000 UGX from a 100 UGX ticket. There are cash prizes for anyone who gets at least 13 results right. You can also play emPawa13 every midweek, with a 10,000,000 UGX Jackpot for 13 correct results.
betPawa is the easiest way to bet online securely. Not only do we offer the best odds and the opportunity to bet small win BIG with a minimum bet of 1UGX and win bonuses up to 250%, we also provide 24-hour support to customers who need it.
Are you the next winner? Visit: www.betPawa.ug