"Who am I to stake UGX 500 and then I win over UGX 6 million?"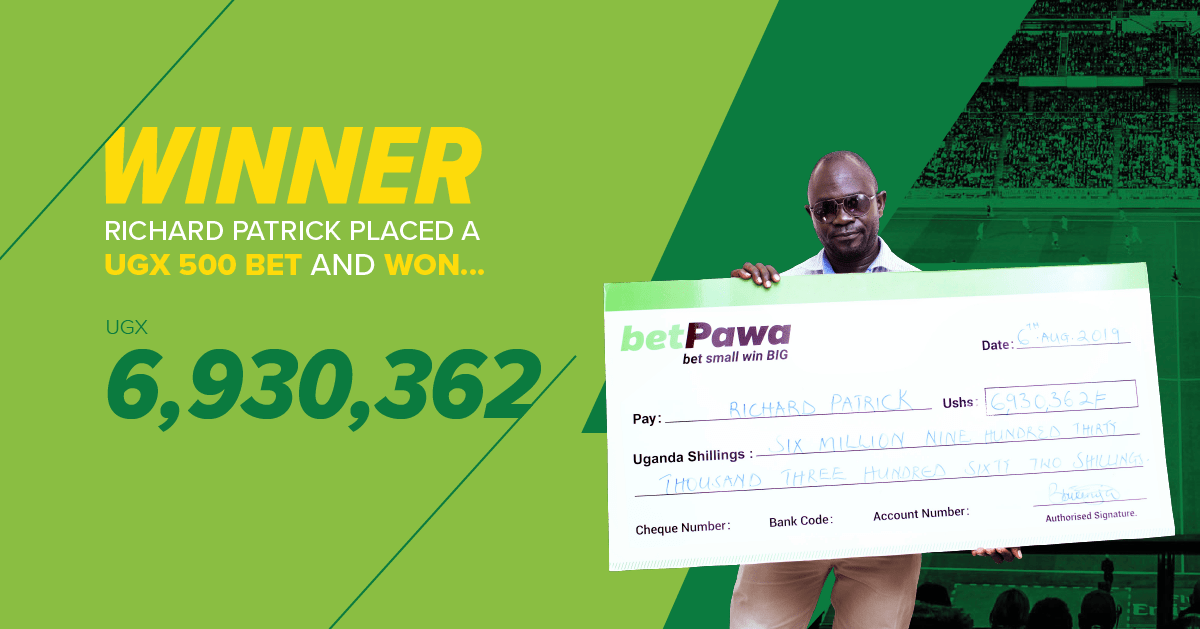 Richard Patrick couldn't believe his good fortune after becoming the latest betPawa customer to bet small win BIG.
The Kampala resident picked 22 different teams – 16 playing at home and six away – over an eight-day period. They were all victorious.
His UGX 500 bet at odds of 6930.36 delivered winnings of UGX 3,464,681.31. This figure was then doubled to UGX 6,930,362.62 by a betPawa win bonus.
Asked what the secret to his success was, Richard modestly said: "It was just my luck that day. Who am I to stake UGX 500 and then I win over UGX 6 million on 22 games?
"I'm a businessman dealing in merchandise, so I will be adding more money in my business and even to expand in opening up another shop."
How Richard won BIG
Arguably Richard's most interesting insight came when we asked him how he makes his selections. "Actually I don't analyse games, I just pick games like randomly," he revealed.
His last two choices were Rangers to win at Kilmarnock and Aberdeen to beat Hearts. Both were dramatic, with Rangers winning in injury time and Aberdeen scoring twice in the last 11 minutes after being 2-1 down.
"The moment the winning goal was scored, I jumped and shouted. The people around me didn't know exactly what was going on but inside me I knew," explained the businessman, who was first introduced to betPawa by a friend 14 months ago.
He added: "I like betPawa because of its convenience when searching for the games you want, minimum stake of one shilling, win bonus of up to 100% and its withdrawal method."
Africa's best win bonus got even bigger recently, going from 3% for bets with three legs to 250% for 30 legs.
Want to win BIG like Richard? Register with betPawa.
What is betPawa's no minimum stake? betPawa offers customers the chance to bet small win BIG by allowing bets from as little as UGX 1.
What is betPawa's win bonus? betPawa offers the best win bonus in Uganda, allowing users to win up to 250% extra. Get 10% for five correct picks, 50% for 12, 100% for 20, 200% for 28 and 250% for 30.
betPawa is the easiest way to bet online securely. Not only do we offer the best odds, a UGX 1 minimum bet and win bonuses, we also provide 24-hour support to customers who need it.
Are you the next winner? Bet here: www.betpawa.ug